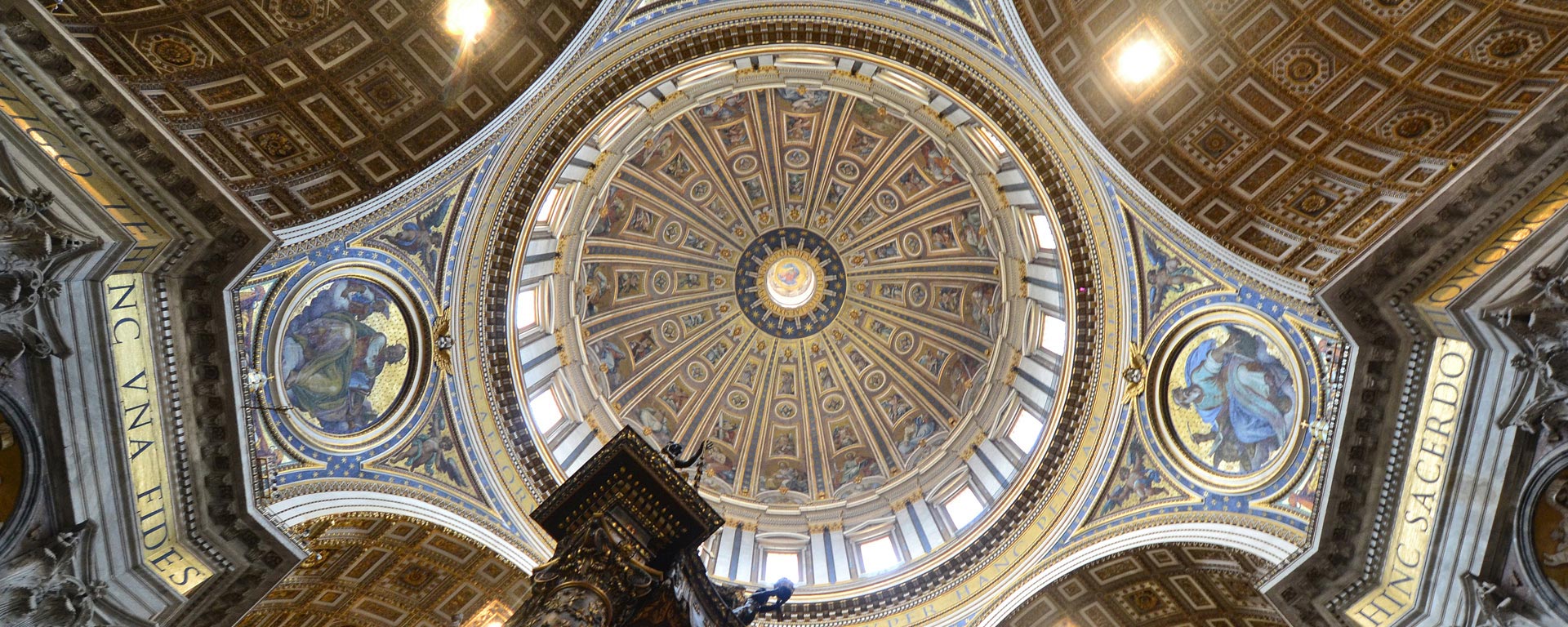 Vatican Tours Reviews
The following are the reviews of tours I have given of the Vatican from 2009-2012 and and the ones I still organise today via guide friends.
They are actual and honest; I have not edited them. I show them here with the kind permission of the clients. I ask people to write a short note and give me a mark out of 5 (5 being good, 1 being bad).
It is very important to me that my clients enjoy my tours and I enjoy and always remember positive clients. 99% of people have enjoyed my tours and given me positive reviews.
The only people who have not enjoyed the tours I provided were people who did not speak English or who would not have enjoyed a tour of anything.
If you take one of my tours, you too could be here…
---
Tour was good
Tour was good. Dara was informative and accommodating
5.0
Stars
Nancy Stanton
---
Incrediby Impressed
I was incredibly impressed with Dara's knowledge and the tour given. I have even purchased a book about the art of the Sistine Chapel in order to develop my knowledge!! Very impressed and would highly recommend.
5.0
Stars
Lisa Mcmonagle
---
Dara was Great!
skipping the lines is a BIG DEAL! vatican has too many visitors. Would recommend this tour. Dara was great.
5.0
Stars
Nina from Dubai
---
Excellent tour.
Excellent tour. Our guide was wonderful and really cared about everything.
5.0
Stars
Peggy Collias
---
Fantastic Job
Dara did a fantastic job. His sense of humor was a definite plus and kept us all engaged.
5.0
Stars
Roger Koppy
---
Worth every penny.
Worth every penny.
5.0
Stars
Scott Kalkin
---
Very Informative
Dara was very informative
5.0
Stars
Jeff Kennedy
---
Easy to Understand
Dara was a good guide and seemed to know what he was talking about, plus he was easy to understand.
5.0
Stars
Jason P
---
Fine Job
The tour was good and Dara did a fine job explaining everything.
5.0
Stars
Tom Johnson
---
Very Professional
My husband and I went on the tour and enjoyed it very much. It was very professional.
5.0
Stars
Marianne Sweeney
---
Great Tour
Great tour
5.0
Stars
Angela Delzotto
---
Excellent Work
Our tour guide was very informative and knew the history of all the statues and art paintings and frescoes on the walls and ceilings. We are very glad we took this guided tour. We would not have known what we were looking at. Excellent work to Vatican tour and guide. Thanks!
5.0
Stars
Katherine R. Yazzie
---
Dara was Amazing
Dara was amazing. Very funny and he knew his stuff!!!
5.0
Stars
Andrea Green
---
Incrediby Informed
I don't know how people go to the Vatican without a guided tour. There is no other way of doing it. Our guide was incredibly informed and very intelligent. I learnt so much with this tour! He was amazing and there is no complaint to be made. On a scale from 1 to 10 (10 being the highest), he ranks at a 10+. 🙂 Thank you for making our Vatican tour the best!
5.0
Stars
Melissa Kelly
---
Very Knowledgeable and Spirited
He was very knowledgeable and spirited. Plus, what with the Obamas in town, we had to walk the entire way around to get to the Vatican when the tour was over. As an aside, my daughter and I waited in the Vatican for almost an hour as there was a rumor that Mrs. Obama was expected, but in the end, what with only 1 1/2 days in Rome, we left. Since we continued on to Florence, Bologna, and Venice, we never did find out if we had missed seeing her. But was there ever a lot of excitement in that area
5.0
Stars
Dr Donna Ferrara
---
Very Funny
Dara made the whole foot pounding experience very interesting with a touch of humour thrown in for good measure. Without him pointing out things on the way we would have missed a lot. My teenage daughter was not looking forward to the tour, but afterwards she commented on how much she got out of it and found it very funny.
5.0
Stars
Mr Parlour
---
Very Informative and Interesting
Dara was very informative and interesting. He made the tour very successful. We recommended that some colleagues we were later meeting book their tour with you company.
5.0
Stars
Steven Hardin
---
Very Enjoyable
Dara's knowledge was superb and was able to make the information very enjoyable. Hearing some other guides as we went round, his knowledge and expertise was a lot better and without this I think we would have skipped through a lot of the Museums and just gone to the Sistine Chapel as it was so busy.
5.0
Stars
Laura Carter
---
Great Tour Guide
What a funny guy! Truly enjoyed the commentary whether it was related or not! He is a great tour guide, super personality!
5.0
Stars
Melissa Laycock
---
Very Friendly and Nice Tour Guide
Very friendly and nice tour guide. Had a lot of knowledge and was presenting it in an efficient and enjoyable manner. Answered all questions to our satisfaction. We have enjoyed the tour very, very much. We will recommend this tour to our friends.
5.0
Stars
M.G (Fred) Drotskie
---
Fantastic
Our guide was fantastic, really bought everything alive!
5.0
Stars
Sacha Hitchings
---
Outstanding Guide
Thank you for providing a wonderful tour of the Vatican – with special thanks to Dara who was an outstanding guide!
5.0
Stars
Simon Harris
---
Informative and Entertaining
The tour was great and we loved our tour guide. The tour was informative and entertaining. Our Vatican experience was greatly enhanced by having this tour and it was definitely worth it.
5.0
Stars
Ryan
---
Excellent Tour
It was an excellent tour. Would recommend it to anyone who was going to Rome.
5.0
Stars
Paula Bawiec
---
Very funny and Entertaining
Dara was fantastic!! Really informative, considerate of everyone on the tour. Aware that it was a long tour with a lot of walking and was always aware of the groups comfort and needs. He was also very funny and entertaining, I would highly recommend him!
5.0
Stars
Tracey Herbert
---
Excellent English
Spoke excellent English. Loved the headphones. Did not have to keep up to enjoy the tour. Have two teenagers with us and they enjoyed it too!
5.0
Stars
Toni Elizabeth Stanek
---
Highlights of My Trip
Most professional tour that I had on Rome. One of the highlights of my trip. Thank you!
5.0
Stars
Marti Panikkar
---
Helpful and Informative
Dara was very helpful and informative. He knew each room and detail and I am glad that he was our tour guide. He had a nice personality and I was amazed with his ability to keep counting our group to make sure all were together before we moved forward. I have already recommended your tour to other people as I traveled in other parts of Italy.
5.0
Stars
Audrey Ferrante
---
Informative and Interesting
Our tour was most informative and interesting. The guide kept the family entertained with facts of the origins to the many statues and artwork. Well worth the cost to cover such a magnificent papal residence.
5.0
Stars
Gilbert & Luisa Rigon
---
Great Tour
It was a great tour except it was too long without being able to sit down or take breaks. (This is a criticism of the Vatican many people have – there should be more benches – Dara).
5.0
Stars
Sheila Picard
---
Excellent Sense of Humour
Very informative and Dara has an excellent sence of humour.
5.0
Stars
Billy Kane
---
A Wonderful Experience
A wonderful experience. Well worth the price. Excellent knowledge shown by Dara and any questions quickly answered. Would recommend strongly.
5.0
Stars
Steven Trickitt
---
Dara was Fantastic!
Dara was fantastic! Not only very informative but funny as well. He kept the group together well, he frequently asked if everyone was okay and we stopped for toilet breaks. The tour was so interesting and well paced. It was also great that Dara was able to talk and walk at the same time unlike the guide the following day!
5.0
Stars
Natasha Thomas
---
Brilliant Irish Wit
Dara was so knowledgeable about all aspects of the history, architecture and general elements of the Vatican. What we really appreciated were the background stories he shared about why things were done the way that they were as it really aided our understanding and appreciation. Our group included 2 teenagers, and all of us were pleased. There was so much to cover and he did it brilliantly. His brilliant Irish wit was greatly appreciated too! I can't imagine trying to do the Vatican on our own.
5.0
Stars
Carrie
---
Dara was an Excellent Guide
Dara was an excellent guide. His tour was very informative without being too 'heavy' and included just the right amount of humour. I'm sure we learnt a great deal more from Dara than if we simply read the guide books. The whole tour experience was incredible and helped to make our brief holiday to Rome a great success. Well Done!!
5.0
Stars
Alison and Alan Twyford
---
Dara was AWESOME!
Dara was AWESOME!
5.0
Stars
Maz
---
An easy and Fun Experience
The tour was everything and more than we expected. Thanks for making it an easy and fun experience for the whole family.
5.0
Stars
Sarah Morel
---
Dara was Outstanding
Dara was outstanding. The tour was sensational and met every expectation we had. Our two teenage boys where very impressed with the tour and thoroughly enjoyed Dara's commentary, humor and knowledge.
5.0
Stars
Carolyn Wales
---
Very Good
The tour was very good and Dara had the perfect combination of knowledge, respect and humour! It was good he had this as the tour is long but we knew it would be. The only aspect of the tour which saddened me and my friends (this has no reflection on Dara) when we entered the Sistine Chapel I could believe the noise, flash photography and uncovered arms!!) This is obviously a sign of the times but the Vatican should Not allow it. Vatican Tour was amazing and of course I will be recommending it.
5.0
Stars
Anna Baker
---
Knowledgeable and Friendly
We had a wonderful time on our tour. Dara was knowledgeable and friendly. The Vatican trip was a highlight of our trip to Rome. Thank you.
5.0
Stars
Medina Khalil
---
Excellent!
This Irish tour guide was excellent. Very knowledgeable and delivered information in a thorough manner with a clear voice. By far the best guide I had on the trip.
5.0
Stars
Russell Lau
---
By Far the Best I have Ever Experienced
Having travelled a great deal, I have been on many tours in many places, but this tour was by far the best I have ever experienced! Dara delivered a lot of information in a quick and witty way. I am so glad we didn't try to visit the Vatican without a tour. Thanks so much for a wonderful day!
5.0
Stars
April Flowers
---
Throughly Enjoyed the Tour
Dara was excellent I throughly enjoyed the tour as did my family. I would do it again when I return.
5.0
Stars
Olga Corapi
---
Great Tour!
Dara was excellent! Thank you for such a great tour!
5.0
Stars
Ruth
---
Excellent Tour
Just loved all the info that Dara gave us. Excellent tour and tour guide. Would recommend your tours to our friends visiting Rome. Thanks for your services.
5.0
Stars
Brando DeOliveira
---
Excellent Guide
Dara was an excellent guide, knowledgeable and added a nice touch of humour to the tour. We really enjoyed ourselves on the tour.
5.0
Stars
Kevin Hall
---
The Tour was Excellent!
The tour was excellent! Very informative. Dara was an excellent tour guide – funny, knowledgeable and very friendly. This was the best tour we went on during our stay in Italy.
5.0
Stars
Edvard Lauman
---
Extremely Interesting
I attended the tour with my friend and we both found the tour extremely interesting. I would definitely recommend this tour.
5.0
Stars
Tracey Bennett
---
Dara's Tour was Fantastic.
Dara's tour was fantastic. He made 2000 years of history much more fun than expected. I would certainly take his tour again when I next visit Rome. I learned so much and had a great time. Thanks!
5.0
Stars
Melinda
---
The Tour was Great
The tour was great. Dara was a great combination of knowledge and humor. Good pace. I would use your tour company again.
5.0
Stars
Mike Marotta
---
The Most Enjoyable Tour
This was the most enjoyable tour of our entire two week vacation to Italy. Dara was quite knowledgeable and interjected fun facts and humor which made it even more engaging for our children – ages 20, 17 & 15. He was always respectful of the faith and reminded us of the rules, other tour guides must not have been as informative.
5.0
Stars
Mike Howard
---
Wonderful Job
Dara did a wonderful job. I wish we would have had him as our tour guide the entire time we were in Rome. He made the tour wonderfully entertaining and very educational. He placed just enough detail in the explanation to teach us but not bore us. He did an outstanding job. Thank you Dara!
5.0
Stars
Rebeka Carter
---
Easy to Follow
Dara did a great job and was very informative regarding the amount of art and sculpture that was covered. His explanation was in story form and he connected what was happening during that time in a very easy to follow description.
5.0
Stars
Lori Oliver
---
Take the Tour
Take the tour, even if you will do it on your own later.
5.0
Stars
Dara Fazel
---
Dara was Great
Dara was great. We had to leave the tour early because our ship changed the departure time from the port city – move it up 1 hour. Dara gave us great directions on where to go to see what we wanted to see since we couldn't stay with the tour. He also was very informative while the hour or so we were with the tour.
5.0
Stars
Jerry Parche
---
Dara was an Excellent Tour Guide
We thoroughly enjoyed our tour of the Vatican and felt that we obtained a lot more information than we would have done on our own. Dara was an excellent tour guide who was well informed and able to deliver the information in an enjoyable way.
5.0
Stars
Shirley Ryan
---
A Great Tour
The tour was great, after talking with others on our cruise we got the better deal as they went on the cruise sponsor tour. I do have 2 items to help with improvements. I know you may not be able to do this one and it may be out of your control, but benches would be great when listening to the information on the Sistine Chapel. The second, the guides need better microphone, when they turn their head the mic stays put and you lose volume. My party all agreed that it was a great tour. Debbie.
5.0
Stars
Deborah Flanders
---
Dara was Very Funny
Dara was very funny and gave great information. Truly enjoyed this!
5.0
Stars
Susan Kiner
---
Dara was Amusing and Spoke Clearly
While Dara was amusing and spoke clearly, your microphone system managed to cut out a good third of the information which he spoke into it. Several guests inquired about the quality of the broadcast. This was to be sketchily made out through the transmission, while more interesting things were not. The performance of Dara was good, however the time frame allotted and the shear load of visitors to the museum and vatican allowed for nothing in the way of an undisturbed visit.
5.0
Stars
Dr. Brian K. Manich
---
Thoroughly Pleased
Thoroughly pleased with the entire experience.
5.0
Stars
Christy Turner
---
Tons of Sense of Humour
I love Dara's format of explaining with tons of sense of humour.
5.0
Stars
Celina Tablante
---
Perfect Balance of Wit and Knowledge
He was the perfect balance of wit and knowledge – was amazed at the depth of his knowledge and he has ability to communicate the facts in an interesting manner – also gave us a good selection of the things worth seeing – I have recommended the tour on our expedia review of Rome
5.0
Stars
David Garwood
---
My Vatican Tour Details
Skip the Line Tickets
Sistine Chapel & St. Peters
Bathroom & Coffee Breaks
English Speaking Guides
Book Now
My Vatican Tour reviews:
Rated 5.0/5 based on a selection 10 customer reviews out of thousands.
Dara was an Excellent Tour Guide




Shirley Ryan


We thoroughly enjoyed our tour of the Vatican and felt that we obtained a lot more information than we would have done on our own. Dara was an excellent tour guide who was well informed and able to deliver the information in an enjoyable way.


5

/

5

Stars

Dara's Tour was Fantastic.




Melinda Gades


Dara's tour was fantastic. He made 2000 years of history much more fun than expected. I would certainly take his tour again when I next visit Rome. I learned so much and had a great time. Thanks!


5

/

5

Stars

By Far the Best I have Ever Experienced




April Flowers


Having travelled a great deal, I have been on many tours in many places, but this tour was by far the best I have ever experienced! Dara delivered a lot of information in a quick and witty way. I am so glad we didn't try to visit the Vatican without a tour. Thanks so much for a wonderful day!


5

/

5

Stars

Great Tour!




Ruth


Dara was excellent! Thank you for such a great tour!


5

/

5

Stars

Easy to Understand




Jason P


Dara was a good guide and seemed to know what he was talking about, plus he was easy to understand.


5

/

5

Stars

Excellent Tour




Paula Bawiec


It was an excellent tour. Would recommend it to anyone who was going to Rome.


5

/

5

Stars

Take the Tour




Dara Fazel


Take the tour, even if you will do it on your own later.


5

/

5

Stars

Worth every penny.




Scott Kalkin


Worth every penny.


5

/

5

Stars

Excellent Work




Katherine R. Yazzie


Our tour guide was very informative and knew the history of all the statues and art paintings and frescoes on the walls and ceilings. We are very glad we took this guided tour. We would not have known what we were looking at. Excellent work to Vatican tour and guide. Thanks!


5

/

5

Stars

Wonderful Job




Rebeka Carter


Dara did a wonderful job. I wish we would have had him as our tour guide the entire time we were in Rome. He made the tour wonderfully entertaining and very educational. He placed just enough detail in the explanation to teach us but not bore us. He did an outstanding job. Thank you Dara!


5

/

5

Stars